Who, today is stuck with only one email address? You probably need one email address for that Facebook account, one to receive any professional communication, and maybe that one funky address for just about anything!
In all likelihood, now that it does not need an invite to get a new Gmail address, all these addresses are Gmail accounts. In today's post, we will look at how to access multiple Gmail accounts in Firefox browser using Mozilla Add-ons.

How do I get these Add-ons?
I used Mozilla Firefox 10.0.2 on Windows 7.  To download and install an Add-on in Firefox, select Tools->Add-ons or from keyboard do CTRL+Shift+A. This will launch the Add-ons Manager. You can simply search for the Add-on that you want and install it, when it shows up in your search. Some installations may require that you restart Firefox. See illustrations below.
Search for an Add-on

Installation of Add-ons
The installation of each of these add-ons remains the same. You search for the desired Add-on as shown above and the simply select the "Install" button.

On installation, it is possible that the button is placed in the "Customize Toolbar" window.
To open this window, select View->Toolbars->Customize. Drag and drop it to the Add-on toolbar. To display the Add-on toolbar, type CTRL+/, the toolbar is displayed in the right hand bottom corner of the browser page.
Scroll to the bottom of the page of the installed Add-on and select the Options Tab to configure your set of Gmail Accounts. For further information on these Add-ons, click on the "More" hyperlink.

Lookup the Installed Add-ons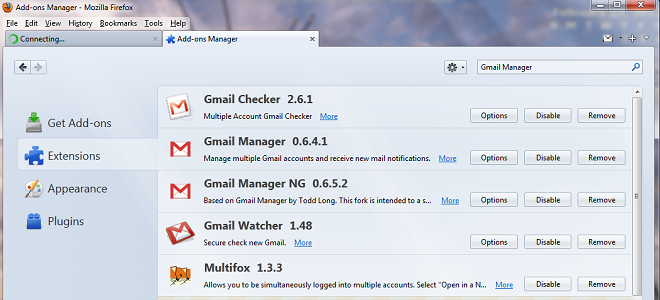 Add-ons to access Multiple Gmail Accounts
Gmail Checker
The latest available version is 2.6.1. This extension allows you to check for new mail in Google Mail and Google Apps accounts. This extension supports 2-Step Verification, wherein you will need to create an application specific password. This is configurable for each account separately and the password must be saved locally.

Multifox
This extension is integrated into the context menus of links and bookmarks and in the File menu. It creates an Identity Profile in a new Multifox window and logins made in each window are independent of the other. The window number is shown in the Address bar. For every Gmail account that you wish to access, you will need a Multifox window with an Identity Profile.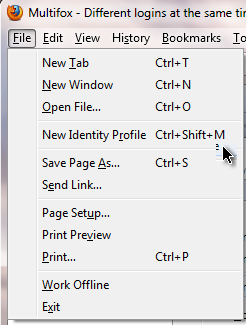 For more details on this extension, visit http://br.mozdev.org/multifox/
Gmail Watcher
This extension uses the Google multiple sign-in mode, restricted to 3 accounts. Gmail Watcher uses the information from Gmail to login to the accounts. You need to be logged into the Gmail Website for this extension to work.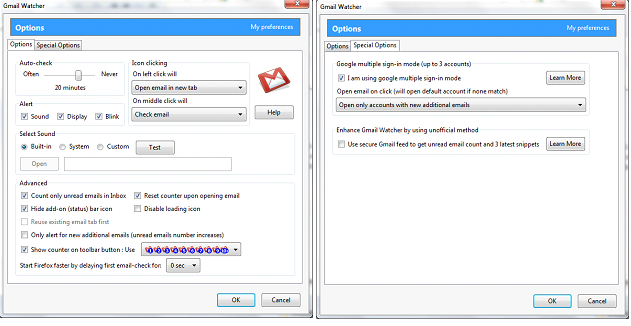 Gmail manager NG & Gmail Manager
These are two similar Add-ons and the Gmail Manager is the basis for Gmail Manager NG. Both these Add-ons allow you to manage multiple Gmail accounts.
While testing the viability of this extension, we found that this extension doesn't work properly with Firefox 10.0.2. However, it has been found to be working with earlier versions of the Firefox browser. Please check the reviews section of these add-ons for a possible resolution with Firefox 10.
Personally, I use the multiple sign-in feature available in Gmail. But, limitation with Gmail multiple sign-in feature is that if you sign out from one account, you will be signed out from all other accounts automatically.
If you wish to access and see unread mails from all your Gmail accounts at the same time, then you may try anyone of the above Firefox Add-ons.
Do give us your feedback,suggestions, and inputs in the comments section below about these Mozilla Firefox Add-ons.
Happy Adding-On then!