In telecom industry, these two terms EMS aka Element Management System and NMS aka Network Management System are used interchangeably most often. But, these two terminologies do differ in their true meaning and should be used wisely. Below are the definitions of EMS and NMS which clearly states the differences between these two.


Element Management System (EMS)
An element management system (EMS) manages one or more of a specific type of network elements (NEs).
Using an EMS a user can manage all the features of each NE individually, but not the communication between NEs. Communication between NEs is managed by the network management system (NMS).
One or more management interfaces are exposed by NEs that the EMS uses to communicate with and to manage them. These management interfaces use a variety of protocols such as SNMP, TL1, CLI, XML, and CORBA.
Network Management System (NMS)
A network management system is a combination of hardware and software used to monitor and administer a network.
Network management refers to the maintenance and administration of large scale computer networks at the top level. Network management is the execution of the set of functions required for controlling, planning, allocating, deploying, coordinating and monitoring the resources of a network including performing functions such as fault management, configuration management, accounting management, performance management, security management and bandwidth management.
A large number of protocols exist to support network and network device management. Common protocols are SNMP, TL1 and JMX etc.

The network elements in the network each communicate with their respective EMS. The NE-specific EMSs communicate to a higher level NMS that provide integrated multivendor network management. This is depicted in the diagram below: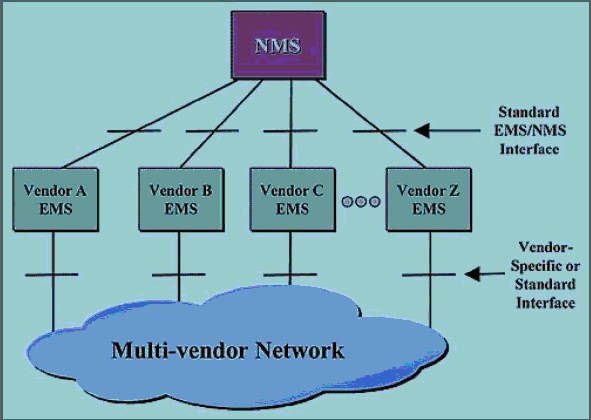 Only the EMS is exposed to complete management information content of all the NEs in its domain. It is the sole mediator of this information and the control of the NEs to the Network Management Layer
Hope you find this information useful. Please leave your footprints in comments section below for any feedback, queries or suggestions…!!