The Apple Company has always flabbergasted us with their exclusive and VIP like innovations. Many companies are in the line to mimic its technicalities and have come up with a comparable design and touch screen interface. The ones who cannot do so earn money by developing Apple applications. Year 2012 began with a new disclosure by the Apple masterminds. They developed an energy saving and habit learning thermostat by the name of 'Nest'.
An ancient panache thermometer has been used since 1950s, and the team wanted to bring a change. EPA claims that a properly programmed thermostat can reduce 20% from the heating and cooling bills while 90% of the programmed thermostats are not really programmed. Hence, they launched the world's first learning thermostat. The instigator claims that within a week's time Nest will automatically adjust the temperature according to the owner's comfort level.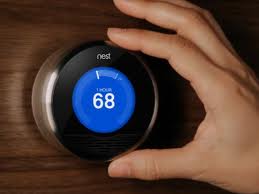 This cute little is only 3.20 inch in diameter, with a built-in chargeable lithium-ion battery. The attractive and tech-savvy design enhances the esthetic appeal of the interior. It blends onto any wall and reflects any color. With a touch screen interface, you can adjust an amiable temperature for your environment to maximum or minimum. Moreover, it comes with an iPhone and Android application that lets you control the temperatures remotely. You may also view the current temperature from far-off with the help of a mobile device or the internet. Login to your account through office or elsewhere and see how it is saving energy bills for you. A history of saved energy is also stored, which can be observed at any time – You could be saving a lot of bills!
The black display screen which demonstrates the current temperature, turns blue when the room is cooling and red when the atmosphere is heating up. A green leaf appears on the screen to remind users to save energy and money by adjusting the degree level. Though the temperature shifts are automatic; consumers can still adjust it by turning the outer ring. Train the thermostat to turn down or turn off when you are not at home. Even a one-degree shift in temperature cuts the energy use by 5%. With a powerful built-in computer technology, sensors detect whether there is any human movement within the angle. Once the lights are turned off it automatically shifts to energy-saving settings. When the user shifts the temperature, it also illustrates the anticipated time it will take to reach the suggested temperature level.
Nest will never heat or cool and empty room, it active sensors senses activity, temperature, humidity and light. With a 150 degree angle view, Nest detects if someone is away and sets itself to auto away mode. Since it also comes with a Wi-Fi connection, it senses the weather conditions outside and adjusts the thermostat accordingly. Light sensors robotically adjust Nest's brightness so it won't blind you completely at night. The easy to install energy saver comes with a price tag of $249 and can be purchased online through Nest's official website.