Google Plus a new social networking tool by Google has got some real cool features and is being widely used by lot many people. While we wrote our previous post on importing facebook friends to google+, we realized that there are so many people that are not your friend or even acquaintance who are following you on Google Plus. These people are not in your circle, but of course you are there in their circles. They do not harm you at all, but what annoying is to see unwanted notifications and posts when they share something (Note that they may share some stuff that you do not want to see at all and does not interest you).
Well, it's good to have lot of followers sometimes, but for people who only want to interact with a particular set of people, being followed by unknown people is no less than a big turn off.
Let us share with you a step by step process to ignore notification from followers:
Ignore Followers and Remove Them From Circle
1. Go to your Google+ profile and Select Circles as shown in the image below:

2. Now select "X" – you want to ignore X. Click on "Ignore" as shown in the image below:

3. This will pop up a message as below: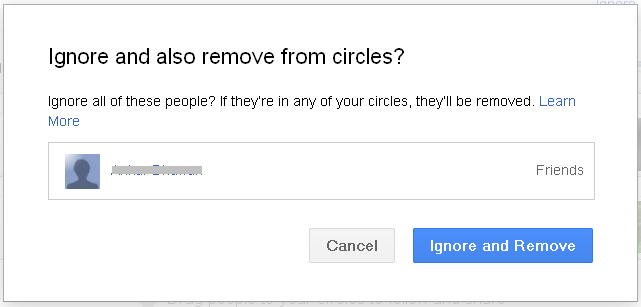 After you select "Ignore and Remove", you will not see any content from X in your incoming streams and X will be removed from your circle too.
Hold on, if you only want to ignore content from X, but still want to keep him alive in your circles, read the next headline.
Ignore Followers but Keep Them In Circle
1. Go to your Google+ profile and select "Incoming" under Streams on left hand side menu. It will lead you to a page as shown in the image below:

2. As you can see in the image above, there are two options "Add to circles" and "Ignore" in front of "Shared by X". X is an unwanted follower – Ignore him. So by clicking on Ignore, you will get a message as below:

As shown in the image above, by ignoring a person, their posts will no longer appear in the Incoming. This is what we were looking for, isn't it?
But before we say that you are done, you can take a step further to block a person completely. By doing this the person won't be able to comment on your posts as well. Here is how you can remove the person completely from your Google+ profile.
Hope you find the information shared here useful. Feel free to leave your suggestions or feedback in the comments section below.