Google+ is a new social networking tool or website launched by Google. People who have been using Facebook for social networking, can import all of their facebook friends to Google Plus, by following the simple steps described below:
Step 1: Login to your yahoo mail account by typing http://mail.yahoo.com/ in browser's address bar. If you do not have a yahoo account, create one by visiting here (It won't take much time).
Step 2: After you have logged into yahoo mail, select Contacts -> Tools -> Import as shown in the image below:

Clicking on Import will take you to a page showing following options:

Step 3: Select "Facebook", facebook contacts will be retrieved then. Once all the contacts are imported, you should be able to see following message and you can also check all the contacts by clicking on "View imported contacts":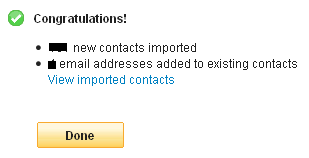 Step 4: Half the battle won…!! Now this is the last step to get all your facebook friends in Google+. Login to your Google+ account, select Circles -> Find People -> Yahoo! as shown in the image below:

And you are done…!! Now all your facebook friends are also there on Google Plus. Enjoy interacting with them…!!
Hope you like the information presented here useful. Feel free to provide any suggestions or feedback in the comments section below.