Developed by Samsung; Bada is an operating system for mobile devices such as smartphone and tablets. Bada keeps on upgrading its version to bring prolific experience to its users. All the series of Samsung Wave smartphones have a Bada operating system. The good news is that Bada 2.0 UX has been released with compelling new features. Many admirers are now a fan of its new capabilities, which includes advanced services like mobile payments, recharging transport pass-cards and file sharing without an internet connection. Moreover, it has an improved performance, better speed, voice recognition, Wi-Fi direct and NFC. The voice recognition tool is the coolest thing in Bada's latest version, which is compelling the masses to upgrade their Samsung Wave.
Why You Should Upgrade To Bada 2.0 UX
With a voice recognition feature one can make voice commands for dictation and let the system search for any needed information. The Allshare feature lets you enjoy picture and video sharing to a TV for a cinema experience. The copy and paste functionality in the new Bada 2.0 UX allows a maximum of 19000 characters to be copied and placed anywhere. The ChatON service permits different operating platform to text for free all around the globe. While a remote control system can help locate your missing phone or erase a data completely through a secure server.
It seems like the makers want to leave no room for the competitors to take off the market! It is serving equal or maybe enhanced facilities compared to huge enterprises. You should really get your hands-on Bada 2.0 UX, but for that you better get a Samsung wave first. So here's the deal:
Steps To Upgrade Bada 2.0 UX on Samsung Wave
Some other sites have been teaching a very complicated method to upgrade it; however, this method will be easy for the tech-savvy readers.
Step 1: You will need to download the latest version of Samsung Kies from their official website. The best part is that it can also be downloaded on a Mac PC.
Step 2:  Remove your Sim and memory card and connect your phone to the computer. Launch Samsung Kies and it will detect your phone's connection to display a firmware update notification as shown below: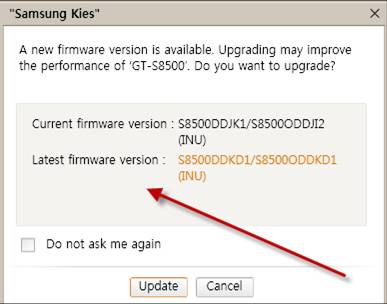 Hit the update button!
Step 3: It will prompt another requirement. Tick on 'Agree to the Terms and Conditions.' The lower-level option will ask if you would like to save your IP and hardware information on Samsung's server. The information is only stored on their servers for two years, and it's totally upon you to choose the one that fits you the best.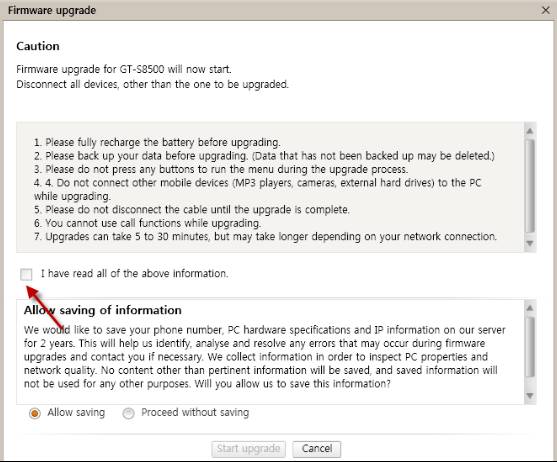 Mark both the options and click Start Upgrade
Step 4: The firmware upgrade file will be downloaded to your phone; be patient as it will take few minutes or more depending on the speed of your computer and internet connection. Do not unplug your phone or hit the cancel button during this process as doing so may completely irradiate or corrupt the previous software. Furthermore, avoid using your phone options during the upgrade.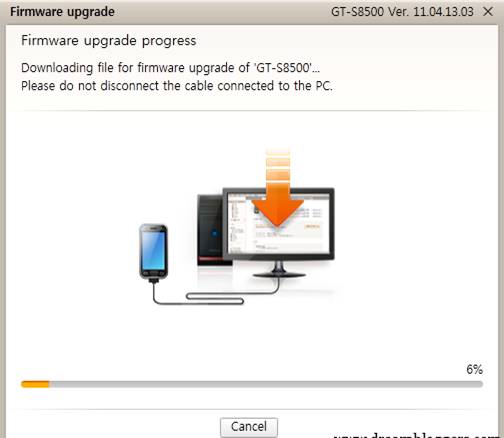 Once the upgrade is complete your phone will restart automatically upgrading it with the new Bada 2.0 UX. Enjoy!