This is Part 2 in a series on Flip Flops in Digital Electronics. The full series is Part 1, Part 2, Part 3, Part 4, Part 5 and Part 6.
S-R Latch or Set-Reset Latch is the simplest type of flip flop which is a basic building block for other types of flip flops. It has two inputs, the S (Set) and R (Reset) inputs and two outputs which are complementary to each other and are denoted by Q and Q'. S-R latch continues to be in one of the stable state into which it has been put until it is triggered into another state – that's why it is called a latch.
The S-R Latch can be constructed by cross coupling two NAND gates as shown in the image below: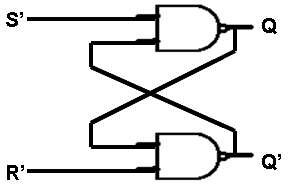 The cross coupled connection from the output of one gate to the input of the other gate constitutes a feedback path. This is why the circuit is classified as asynchronous sequential circuit.
Let Qn and Qn+1 denote the present state and next state of the latch, below is the truth table of a S-R Latch
S'

R'

S

R

Qn+1

Qn+1'

State

1

1

0

0

Qn

Qn'

Hold

1

0

0

1

0

1

Reset

0

1

1

0

1

0

Set

0

0

1

1

Forbidden State
For S=1, R=1, Qn+1=Qn+1′=1, which is not allowed because since the outputs are complement of each other, they should differ. This is known as Forbidden State – because of this indeterminate condition, the circuit is difficult to manage and is seldom used in practice.
Application:
Latches are suitable for temporary storage of binary information that is to be transferred to an external destination.
Read the full series at Part 1, Part 2, Part 3, Part 4, Part 5 and Part 6.